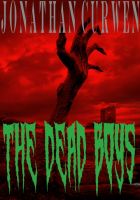 Now available at Smashwords.com. Click on the cover art to go to the book's homepage. There you can read descriptions, sample chapters, and of course download the book.
A short description:
THE NEWLYWEDS...
Bill and Constance are young, spirited, broke...and just married. In lieu of an expensive honeymoon, they trek to a cabin in the Connecticut woods for a weekend of solitude and celebration.
THE STRANGER...
At the campsite, a bizarre man calling himself Septimus Smith appears from nowhere, full of strange proclamations and violent threats. Taking no chances, Bill and Constance run for their lives.
THE CONTEST...
But Septimus won't let them go. It seems the newlyweds have stumbled into the middle of a strange game, played by beings with abilities that seem...unnatural.
Abilities like raising the dead.
And, to the young couple's horror...
...the dead are coming.
The Dead Boys is a surreal, disturbing addition to the zombie genre, filled with unforgettable images, vivid characters, and of course, more guts than you can shake a severed limb at.